Benefits of Affiliating with NASA Lies, Inc.
With the Affiliate relationship, NASA Lies works with local and community members all across the United States so that NASA Lies may provide our local partners with access to our resources, leadership, training and even organizational support. Organizational support includes access to our printers and t-shirt printing at reduced rates. NASA Lies will provide an home page in our website that will notify your members that your group is supported by a national Flat Earth organization.

Our goal is to grow through our Affiliations and Local Partners so that NASA LIES benefits the community at large.
Our goal is to have over 150 Affiliates and countless Local Partners from all across the United States and to accomplish this goal in under 2 years.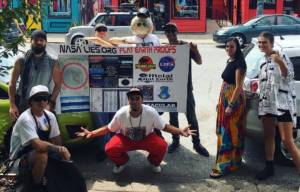 Are you interested in becoming a NASA LIES, INC.  Affiliate? Do you have a Flat Earth group that is public? Is your group registered as a corporation or an educational entity? If so, NASA Lies could benefit your organization.  Brother Ernest is able to print -shirts, banners and a mulitple of printed items preparing you for a day of activism.
NASA LIES State and Regional Directors are activists help to work in their communities to engage and develop a relationship and partnerships between local flat earth activists and NASA LIES INC.
We would like to teach you how to organize and quickly mobilize your efforts locally to protect the rights of flat-earthers who will follow after you. Affiliations are not the same as being a Local Partner of NASA Lies, Incorporated. NASA Lies can offer discounted pricing to our Affiliates for t-shirts, print material and any items in our store list can be designed for your group's transparency.

A list of our State Directors can be found on our State Directors page.
Until then, you may contact Sister Heather or Ernest.